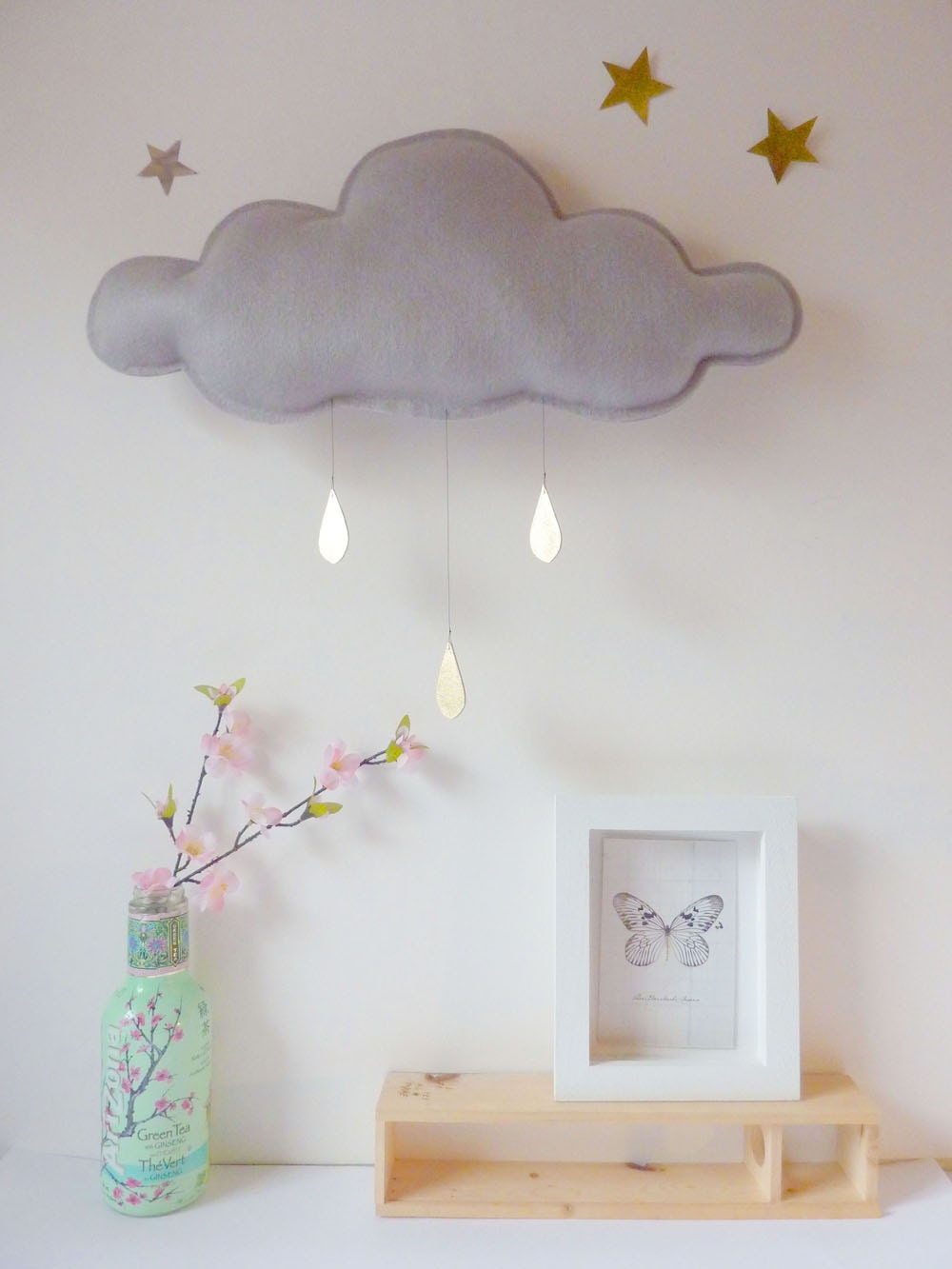 Ce gros nuage en feutrine aux gouttes dorées est un cadeau idéal.
Une pluie de poésie pour votre décoration!
Très simples à installer, les nuages de The Butter Flying s'accrochent au plafond en guise de mobile mais aussi sur un mur dans n'importe quelle pièce en manque de légèreté et de poésie!
Les ravissantes créations de The Butter Flying sont nées de l'imagination d'une française exilée au Canada. Nuages, Gouttes de pluie...Inspirée par la nature et les couleurs, elle crée des petits bouts de poésie qui plaisent autant aux enfants qu'aux parents.
Dimensions : Approx: 52cm x 25 cm
52cm x 45 cm avec les gouttes.
Gouttes de pluie en faux vinyl couleur OR
Aussi disponible en d'autres couleurs: noir/peche/blanc/gris souris/gris anthracite/bleu pastel.
Contactez moi si vous désirez des couleurs spéciales.
Gorgeous grey puffy fluffy cloud mobile with three raindrops.
With this cloud, it's raining gold .
A very unique rainstorm! It hangs from a fine fishing line cord...so lovely!
A beautiful addition to any room - children's, living area or bedroom.
this listing is for one cloud:grey felt cloud +gold drop
The gold drops are made with vinyl "faux leather".
Approximately 52cm x 25 cm
52cm x 45 cm from the top of the cloud to the end of the longer raindrop.
The cloud is stuffed with polyester.
Also available in black/peach/white/grey/mint/light blue/dark grey colors.
===========================================================
===========================================================
Join our fan page on Facebook to check the new products :
www.facebook.com/pages/The-Butter-Flying/118871684818947